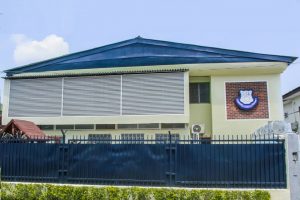 Juniper Hill School is a compact preparatory (nursery and primary) school neatly tucked away on a secure estate in Surulere.
It is an extremely well equipped Montessori foundation school with highly qualified staff and supporting staff.
We are mindful of our environment and as such we aim to raise well behaved intelligent, confident compassionate Nigerian children who will be global citizens.
Mission
To equip the child in every sphere/facet to achieve excellence.
Motto
Servire Cum Amore – To serve with love. Galatians 5 verse 13
Vision
To raise compassionate God fearing individuals who have the ability to take initiative in order to achieve divine purpose.
Core Values
Faith in Almighty God; our Creator.
Service to God and humanity
Confidence in oneself and abilities.
Integrity in all dealings and situations
Compassion towards all.
Respect for all
Curriculum
Juniper Hill School has a very firm Montessori Foundation with regular continuous assessments drawn from both the National curriculum of England and Wales and the Nigerian curriculum. The curriculum is fully integrated to bring forth the best in our student enabling them to achieve excellence.